You might have noticed that the demand for CBD products has exploded, and there are plenty of companies looking to scoop up that increased business. The problem is, not all of those companies have your best interests in mind. Some are looking to turn a profit, pure and simple. And it's the quality of the CBD products that's sure to suffer in the process. So I sat down with Foria creator and co-CEO Mathew Gerson and Kiana Reeves, their Director of Communications, and asked them for the big red flags. As potential customers, what should we look out for when shopping the ever-expanding CBD market? And, boy, did they fill me in.
Foria Wellness is all about customer empowerment and quality control. When they do things, they do it with passion (yes they make CBD lube so pun very much intended) and they do it right. (I've mentioned them before as one of the top CBD companies that educated its customers about cannabidiol.) But they don't make every item you might want to buy. I wish they made all of the CBD products I swear by, but they don't. You're going to have to shop outside the walls of their online store, but at least you can do it armed with a checklist.
Red flags to keep an eye for when shopping for CBD products
If you see any of these six things happening on a company's website, social media pages, or products labels, be careful. They're subtle clues that the company might be more focused on profit than the people buying. Keep an eye out for these things when looking for anything from CBD edibles to oils:
Social media bots
Is their feed filled with posts that clearly weren't written by a human? Are they posting so frequently about their products that it looks spammy? There's probably a bot behind those social media accounts, but it can tell you a lot about the humans running the company.
Instead, seek out companies actively engaging their social audiences. Even better, check to see that they're dishing up some knowledge about cannabidiol in their posts and stories instead of just promoting their products. It benefits a company for you to know how their CBD products will help you, so silence might be a sign they've cut corners somewhere.
Lack of organic ingredients
If a company had the opportunity to use organic ingredients and chose not to, Gerson told me, that's a red flag. CBD is a health supplement. Whether you're using CBD products like I do for anxiety management or to help you sleep or ease your inflammation, you want the best quality products on the market. Mixing CBD with high-fructose corn syrup like you'll find in some CBD edibles like gummies, is counter-intuitive, Gerson points out.
First and foremost, make sure the company is sourcing organic hemp for their CBD products. Hemp is a great bioaccumulator, Gerson and Reeves tell me. That means it will clear a field of toxic compounds like heavy metals lurking in the soil. But if you ingest ingredients made from this hemp and not hemp that's certified organic, you'll be ingesting all those toxins the hemp just mopped up from the field.
Your second priority is checking that the supporting ingredients in the product are also organic. Foria's Basics ($98), for example, is made with hemp that's free of pesticides, heavy metals, and solvents. It's combined with 100% organic MCT oil only. Then the company simply doesn't put in anything unnecessary like additives or preservatives. No matter what you're buying, expect quality and care from the companies behind your CBD products.
Using hemp isolate
Maybe you've seen the phrase "full-spectrum" or "broad-spectrum" on some CBD products. That's because there's a range, or spectrum, of forms companies sell it in. Some companies use hemp isolate and tout this ingredient as the "purest" form. While, yes, it is technically the purest, pure doesn't mean better in the case of hemp, Gerson explains.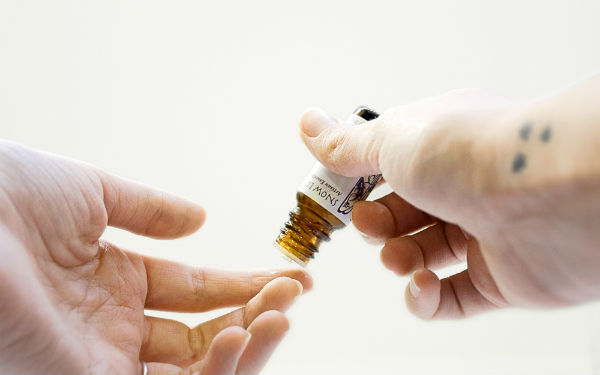 That's because hemp has particles called terpenes that hold an array of health benefits. If you're buying hemp isolate, it means they've gotten rid of 99.9% of these health-boosting terpenes. Broad-spectrum hemp products include some of these terpenes. Full-spectrum hemp includes the most. But it's not just the health benefits of the terpenes you're missing out on when you buy a hemp product that has them removed.
There's something called the "entourage effect" with hemp, Gerson explained to me. That means all of the compounds and particles in hemp work together to provide more benefits than they hold alone. Or, hemp's health benefits add up to more than the sum of its parts when ingested together. Ideally, that means we use hemp with THC, but that's not legal in every state yet. For now what you can do is look for broad- or full-spectrum hemp when you're buying CBD products.
No transparency or education
A company putting out great CBD products is going to want you to know how well formulated they are. They're also going to want you to know how much of an asset these products are for your health, both physical and mental. That's why companies that value high-quality are going to share two qualities: transparency and a despite to educate. And you'll find out whether the company making what you're looking to buy does with just a quick visit to their website.\
As you look around their site, try to answer some questions: Do they provide the results of independent lab testing on their products? Do they have a blog or resource center? Are they explaining what CBD is doing in my body? If the answers are no, you're better off looking for those CBD products elsewhere. If you don't know where to start, check out our guide to CBD companies that actually teach you about cannabidiol. These companies have robust learning sections on their sites and also provide quality reports on their products.
Definitive claims
This one's simple to look out for. Both Gerson and Reeves told me shoppers should be wary if a company makes any big claims. Think "the very best" or "the purest" or even "the most effective." Many companies selling CBD products are doing this now about their nanotechnology. They claim that smaller particles of CBD are more readily absorbed by your body. The underlying message is: so you should buy our product.
There's only one problem as the Foria team points out to me: there's no science on the absorption of nanotechnology. Maybe one day there will be. For now, if a company says their use of this technology makes their CBD products more readily absorbed by your body, it's just a trumped up claim. Look for someone with science and independent lab work to pack up what they're selling you.
Listing CBD amounts on the label
That doesn't sound like a bad thing, does it? But there's a difference between listing oil amounts and CBD measurements. Since the FDA is claiming a patent on CBD, companies aren't actually allowed to list CBD as one of the ingredients in their products. What they'll do instead is list amount of hemp oil, but potency can vary widely by source.
You should be able to get the potency information simply by calling a company and asking. If they won't give it to you, that's another big red flag. Foria, for example, puts the amount of hemp oil on their packages but includes the CBD potency on the product pages on their website. This helps them provide their customers with proper dosing suggestions, another important service companies should be offering.