If CBD capsules and oils deserve a place on our shelves beside our vitamins, you can think of edibles as the gummy vitamins of the CBD world. Let's face it: sometimes it's just more fun to eat your cannabidiol. Luckily for fans of the compound, it's easy to get not just CBD drinks but also CBD edibles in NYC. So pull out your phone and find the closest one to your apartment, office, and even your gym.
Whether you're looking for a super chill Saturday or need a little de-stresser during the work week, bookmark these places. These stores and cafes are dishing up CBD edibles across a wide range of foods, so you can get your fix no matter what you're craving. But be warned: you're going to want them all.
Where to get CBD edibles in NYC
Sure, there have been plenty of CBD edibles in NYC at Instagrammable pop-ups. But this is not a collection of those. There's no time limit of these CBD edibles. You'll find these delicacies on the menu year-round, and if they ever take them off the menu, I'll update this post. So consider it your go-to list for when you need to get out of the office and find some chill, stat.
 

 

 

View this post on Instagram

 

 
Chillhouse, Lower East Side
This is my personal CBD mecca. Along with their delicious, CBD-laced drinks (and amazing CBD massage), you can settle into enjoy your CBD in food form. Order their Whipped Toast, which comes piled high with ricotta cheese and drizzled with CBD honey. But don't worry, friends, the toast is gluten-free.
COST: $12
Chillhouse
149 Essex Street
New York, NY 10002
(646) 678-3501
chillhouse.com
The James New York
Vacation? How about a seriously chill staycation at The James? This luxe hotel now has bragging rights to a full menu of CBD-infused dishes curated by renowned cannabis chef Andrea Drummer, so they're the ideal location. Bring your appetite so you can enjoy your CBD in everything from spicy meatballs to house tots with CBD condiments to an ice cream sundae. You'll have a hard time ordering, but since you can only order it room service, you have plenty of time to sample everything.
COST: $14-32 per dish, but you have to order through room service

The James New York
Multiple locations
jameshotels.com/newyork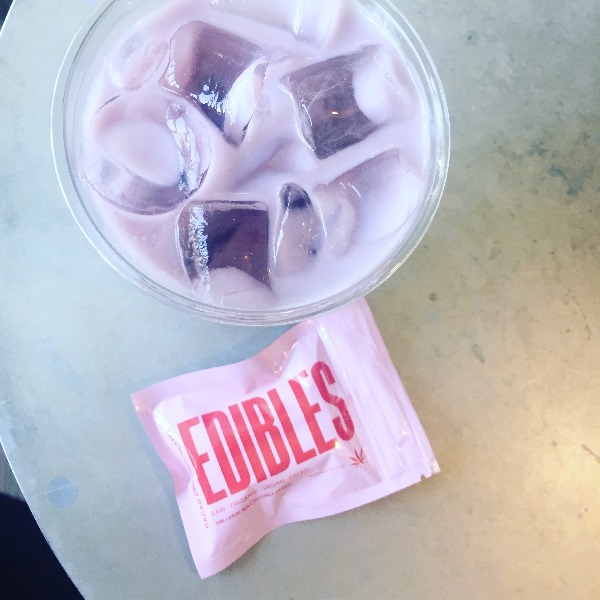 Magic Mix Juicery
This Financial District juice shop is already heaven for work week healthy eaters. But they paired up with Sweat with Bec, and now they're creating even more magic. In addition to some seriously delicious energy balls, this collab brought us one of my favorite CBD edibles in NYC. I'm talking about healthy CBD chocolates. They come in cute grab-and-go two-packs, perfect for a stressful afternoon in the office. As of October 18, they were also offering discounts for stocking up on the treats, so head over and grab your daily dose.
COST: $5 for a 2-pack, $25 for 6 packets
Magic Mix Juicery
102 Fulton Street
New York, NY 10038
(646) 454-0680
magicmixjuicery.com
Caffeine Underground
This cafe may be yet another location lacing their coffee and lattes with CBD oil, but they've also set themselves apart. In addition to CBD drinks, this coffee shop has a delicious range of CBD edibles. For a sweet treat that will take the edge off, order their CBD caramel, lollipops, or jams. And, yes, of course you should pair that with a CBD coffee.
COST: Varies
Caffeine Underground
447 Central Avenue
Brooklyn, NY 11221
(718) 484-4806
caffeineunderground.com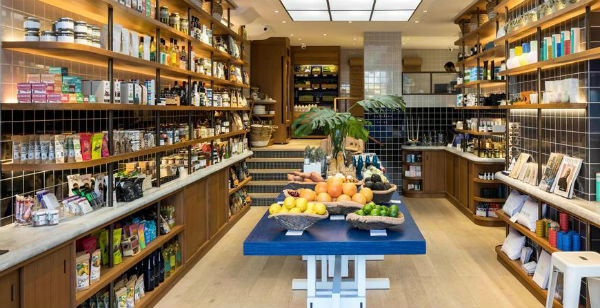 Clover Grocery
This Greenwich Village outpost as an eclectic array of products, but among them are two of the awesome CBD edibles in NYC. Head over here if you're looking for CBD gummies or CBD coconut oil. (Know what you're looking for on the labels of cannabidiol products with our guide to red flags to watch for with CBD products.) On their shelves you'll find Lord Jones CBD gumdrops and CBD-infused coconut oil from Ojai Energetics, but you'll need to snag them before they're gone.
COST: $50 for Lord Jones CBD gumdrops; $30 for Ojai Energetics CBD coconut oil
Clover Grocery
259 6th Avenue
New York, NY 10014
(212) 255-5383
clovergrocery.com
Vitahealth Apothecary
Hit any of this pharmacy's two Upper East Side locations to pick up a pack of Lord Jones CBD gumdrops. They've been named among the best CBD edibles by multiple publications, which means their flavor matches their high-end look. Calling them "gumdrops" is a misnomer, though, since these gorgeous, highly giftable gem-toned treats are more of a classic pate de fruits.
COST: Varies by Lord Jones product
Vitahealth Apothecary
Multiple locations
(212) 772-1110
vitahealthapothecary.com
Flower Power Coffee House
They made our list of CBD drinks in NYC, but here they are again. They're not satisfied to serve up this chill-inducing compound in just one form, so you'll find quite a few. In addition to their CBD coffee, you can also snag a cookie or brownie baked with CBD. Last time we checked that included both a peanut butter cookie and a chocolate chip cookie as well as fudgy brownie.
COST: $8 per baked item
Flower Power Coffee House
64-02 Myrtle Ave
Queens, NY 11385
(718) 366-0011
flower-power-coffee-house-nyc.business.site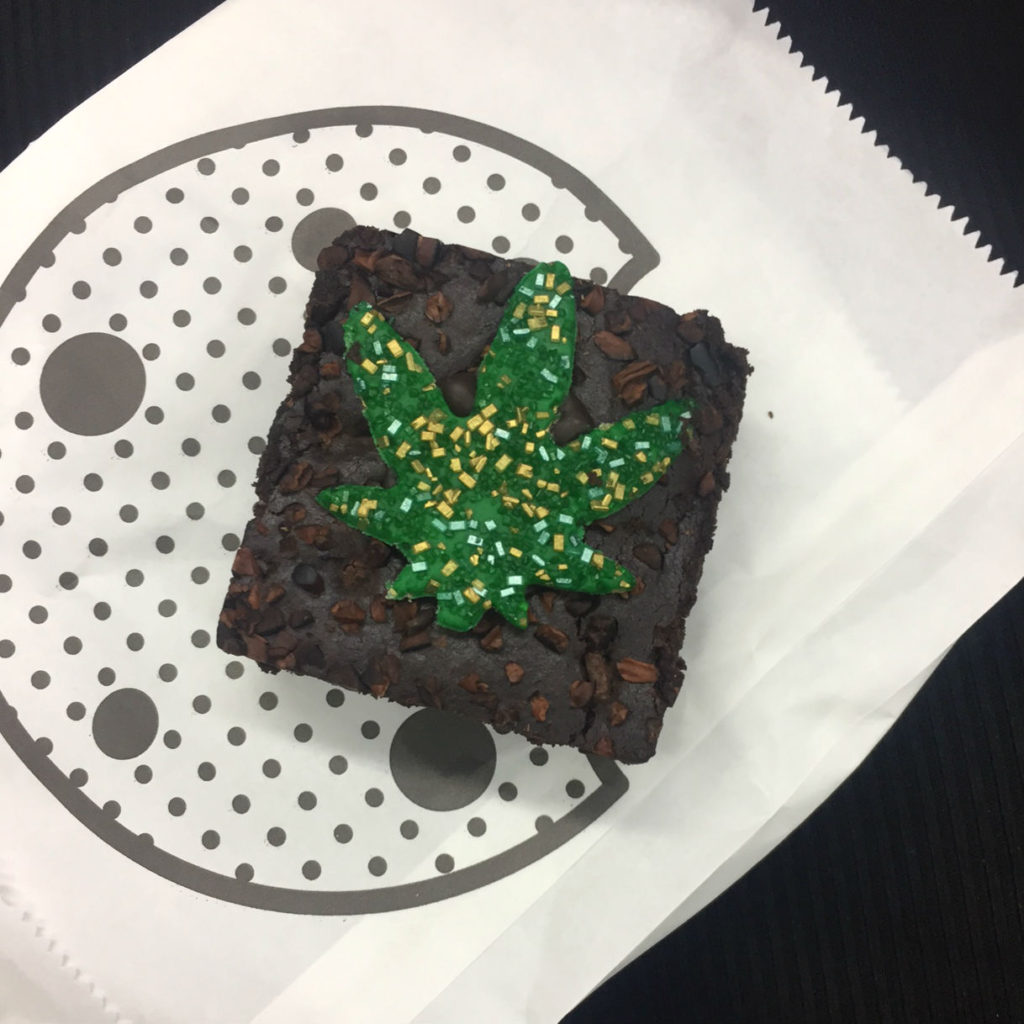 by Chloe
Earlier this year, the vegan chain by Chloe announced that they were doing something special with their Sweets by Chloe line. They were going to bring CBD to several products after the runaway success of a "pot" brownie launched exclusively for 420. Thankfully, head to any location of by Chloe that has a Sweets by Chloe component, and you'll find that they were true to their word. But good luck deciding between the CBD edibles that range from that fan favorite brownie to a thick rice krispie treat and even a gooey cookie.
COST: $5 per pastry
by Chloe
Various locations
eatbychloe.com
The Fuel Stop
There was so much to love when I headed to this Central Park South wellness outpost for the "Rolls Royce of cryotherapy." The founder is generous with her time and knowledge, the staff is warm and welcoming, and the cryo wakes you up better than coffee. But make sure you don't miss the front cafe area during your visit. There's where you'll find a caffeine-free supplement developed by the founder as well as some CBD edibles like the gumdrops from Lord Jones. Snag some goodies after your cold therapy to keep the chill going, just in a different way.
COST: $50 for a box of Lord Jones gumdrops (price of other CBD products vary)
The Fuel Stop
200 Central Park South
New York, NY 10019
(212) 235-1066
thefuelstop.com
Van Leeuwen
This artisanal ice cream shop is giving you a very good reason to eat a frozen dessert during the winter. Put on a scarf and head out to get their Vegan Couch Potato, which features a sweet and salty potato chip-flavored vegan base studded with dark chocolate covered pretzels, peanuts, Dandies marshmallows, and a caramel swirl. Then they make it even better with a dose of Plant People CBD. (For the record, even though this flavor may make you think so, CBD does not give you the munchies.) Each scoop has 5mg CBD.
COST: $4.25 by the scoop
Van Leeuwen
Various locations
vanleeuwenicecream.com