NOTE: The NYC Health Department has decided to crack down on CBD edibles in cafes and restaurants, but not for a couple months. Earlier in February they pulled CBD-infused products from venues, citing federal guidance that doesn't label CBD "safe as a food additive." They've since reversed their actions, but only until June 30. Fines starting at $200 will go into effect in October 2019 for restaurants and cafes serving cannabidiol. This, however, only limits the ability of these venues to add CBD to their products. For bottled drinks with CBD, we'll be pulling together a resource for you of where to buy so you can still enjoy your cannabidiol chill in drink form.
CBD fans have it pretty good here in The Big Apple. There are a number of places to book a CBD massage in NYC. (In case you're wondering, here's what I thought of my first cannabis massage with CBD oil.) Even better, we have access to everyday indulgences like sips and snacks. So where can you get CBD drinks in NYC? I'm dishing on all the locations, and I'll tell you which are my absolute favorites.
It's no secret that I swear by CBD. There are certain CBD products that are essential parts of my self-care regimen, but that doesn't mean I don't seek it outside my apartment. I'm also a regular at a couple of these cafes and shops that stock drinks with CBD. Here's where to get CBD drinks, what else you need to try at each location, and how much the drinks will cost you.
Where to get CBD drinks in NYC
New York has everything if you know where to look. CBD drinks are no different here. It takes some hunting, and a comfortable pair of shoes, but you'll find plenty of options to suit every palate. Luckily for you, I did the digging for you. Just set your sights on one or more of these locations and get ready to chill.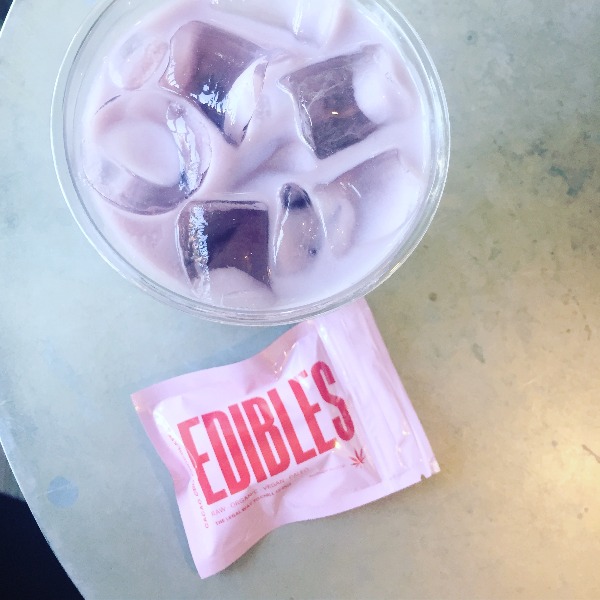 Chillhouse
Chillhouse had to be my first mention. If you read the blog, you know why. This is where I'm so addicted to their CBD massages that I have a monthly membership that auto-renews. Consider me sold. Over the summer this beyond-zen cafe and spa launched a menu of CBD drinks so delicious I can't pick a favorite.
All three drinks are gorgeous, delicious, and laced with Green Witch CBD oil. The Toasted Palmer is a play on the Arnold Palmer that's equal parts lemon and a cozy undertone of toasted rice thanks to Genmaicha. The Purple Haze is a technicolored dream that uses Butterfly Pea, a caffeine-free tea that promotes the growth of collagen. The creamy Hibiscus Milkshake uses coconut milk, hibiscus tea, and Peychaud bitters. With their options and spa offerings, Chillhouse tends to be my first go-to when I'm looking for CBD drinks in NYC.
How much it costs: $10 per drink
Chillhouse
149 Essex Street
New York, NY 10002
(646) 678-3501
chillhouse.com
The Drug Store
If you haven't heard of a little company called Dirty Lemon, give me the pleasure of filling you in. They sell the most Instagrammable bottles of elixirs using lemon juice and a variety of health-boosting ingredients, like He Shou Wu, collagen, and CBD. The Drug Store is their pop-up shop in Tribeca that lets you get your fix, and fast. There are no lines at The Drug Store. There's no cashier to slow you down. You just grab your +cbd bottles, text the company how many you took, and they charge you. The drink itself has a light pineapple flavor with a stronger base of lemon juice that's deliciously refreshing.
Dirty Lemon uses full spectrum PCR hemp oil from Beboe, a California-based company that makes products with both CBD and THC. The Dirty Lemon +cbd product doesn't use any THC, however. Each 16-ounce bottle packs 20mg of CBD. Ready to commit? You can always subscribe to monthly cases of 6 bottles of the +cbd for $45. A one-time order of a case is $65, so it makes sense to become a member if you like the chill feeling this CBD drink gives you.
How much it costs: $10.83 per drink for non-members, $7.50 for members
The Drug Store
293 Church Street
New York, NY 10013
dirtylemon.com
Bridges General
If Tribeca is a little far away for you, but you're looking to give the Dirty Lemon +cbd a try before you order a case, just hit up this high-end bodega. They stock those gorgeous bottles of the pineapple-lemon-CBD elixir so you can grab and go on your way to work. But get on down there, already. They already said on their Instagram post announcing that Dirty Lemon was on their shelves that they didn't know how long the bottles would last. Between Bridges General and The Drug Store, Dirty Lemon +cbd is easily the most convenient of the CBD drinks in NYC.
How much it costs: Expect to pay slightly more than that $10.83 price tag
Bridges General
Multiple locations
11 Madison Avenue
New York, NY 10010
bridgesgeneral.com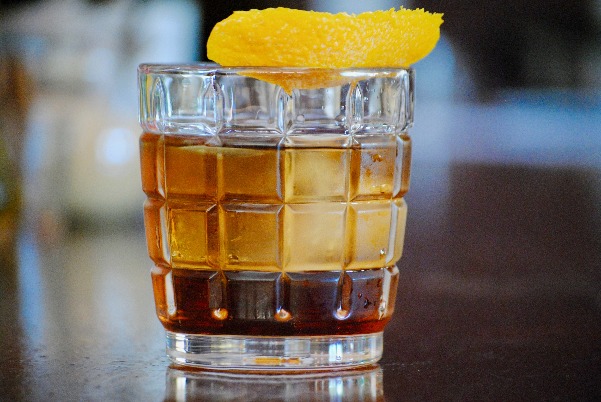 Adriaen Block
If you're looking for a little something stronger from the CBD drinks in NYC, look no further. At the new Astoria spot Adriaen Block, you can get a stiff cocktail with a generous dose of this calming compound. Their cocktail menu, which features boozy bevvys named with fantastic pot puns, has options for just about every drinker. For those of you who don't need booze, just the CBD, to wind down after work, they have alcohol-free cocktails, too.
The CBD concoctions will set you back slightly more than the cocktails without the compound, but we all know it's worth it. Reps for Adriaen Block shared with Dirt that they're currently using the CBD tincture from Every Day Optimal in their cocktails. (The company also makes CBD gum, gummies, oils, and capsules.)
How much it costs: $15 for a cocktail with CBD, whether it has alcohol or not
Adriaen Block
19-33 Ditmars Blvd
Astoria, NY 11105
(718) 060-1391
adriaenblocknyc.com
Flower Power Coffee House
Chef Leighton Knowles, who started this coffee shop, swears by CBD himself. That's probably why he's devoted to the idea of bringing CBD drinks to NYC. If Flower Power does well, Knowles plans to open more coffee shops that will sling CBD-laced Joe. For now, you can head over to Glendale, Queens to get CBD iced coffee — and you might want to pair it with one of their pastries made with CBD oil. You can even balance out that CBD coffee, which is Deez CBD Coffee, with some hemp hydrate water.
Their Facebook reviews point to an expansion, too. It seems like you can get several drinks with CBD in it, including their lavender tea that so many customers love. And if you're concerned about not knowing what CBD they're using, they posted lab results on Facebook showing their tincture contains no THC.
How much it costs: We're still digging. Check back for the dirt on these CBD drinks
Flower Power Coffee House
64-02 Myrtle Ave
Queens, NY 11385
(718) 366-0011
flower-power-coffee-house-nyc.business.site
Magic Mix Juicery
Keep your eye out for this tiny but mighty juice shop in the Financial District. It's small and unassuming but the menu of plant-based foods and drinks will cement its way in your regular cravings. You might recognize the name because they teamed up with Sweat by Bec to make one of my favorite CBD edibles in NYC: a seriously dark and rich cannabidiol chocolate. But if you're looking for CBD, walk past the packaged goodies in front and head straight to the back.
From there you can order freshly made juices, smoothies, and lattes. You won't find any CBD drinks on their menu — because everything can be a CBD drink. That means for just a couple bucks you can have them add CBD oil to any of their signature drinks. Yes, your smoothie just got more luxurious and your latte more relaxing. Just don't forget to add a dropper to your green juice for the ultimate wellness grab-and-go.
How much it costs: $2.50 for the CBD, plus the price of your chosen drink
Magic Mix Juicery
102 Fulton St
New York, NY 10038
(646) 454-0680
magicmix.us
Patent Coffee
Patent Coffee introduced CBD to their drinks back in spring 2018, and since then they've only seen a surge in demand. That means good things for you because they've just expanded their cannabidiol offerings. So stop by their cafe in the Flatiron district to pick up a bold brew with a splash of CBD oil (or a sweet seasonal latte if that's more your speed).
Looking for something a little cooler? Patent just dropped their CBD cold brew bottles. That means if you're in a rush, you just need to head over to their fridge and pick up a bottle. But they're also making CBD coffee more accessible to people throughout the city, even if you live nowhere near Flatiron. You can now place orders through the coffee shop for cases of their CBD cold brew for delivery. Let them know how much you need by Thursday at 3pm using this form and the cannabidiol will come straight to you on Monday.
How much it costs: Add CBD to your drink for $2 (plus the price of your drink). Bottles of the CBD cold brew go for $9, but you can snag a case of 12 for just $60 (Psst: That's just $5 per bottle of the good stuff)
Patent Coffee
49 W 27th Street
New York, NY 10001
(212) 689-4000
drinkpatent.com
The End
Even if you don't know it, you've heard of The End. This adorable cafe kicked off the unicorn latte trend and, yes, they beat Starbucks to it. Yes, you'll have to skip the unicorn E3 live blue green algae latte or gorgeous gem-toned mermaid latte if you want a drink with CBD oil. But we promise it's worth it. If you don't walk into this coffee shop smiling, the new menu offering is sure to make you leave that way.
This cafe is now giving Brooklynites a boost with the Magical CBD Latte. The new drink combines their signature plant-based bevvys with chill-inducing cannabidiol. Head over for a cup of your own featuring cocoa, cinnamon, nutmeg, ghee, vanilla, and CBD. What should you expect? They say it's "like a massage for your brain." You won't find caffeine in this delicious concoction, but you can always add a shot of espresso if you prefer. Their cannabidiol of choice comes from Liquid Sky CBD.
How much it costs: $9 (but extra if you want to add that espresso)
The End
522 Metropolitan Ave
Brooklyn, NY 11211
(347) 987-3954
thendbrooklyn.com
Grass Roots Juicery
Come for the long list of juice and smoothie options, stay for the CBD drinks. Just kidding. All drinks here are CBD drinks, or at least you can opt in on an add-in of cannabidiol oil. Although you'll definitely want to make a trip for their warm-weather drinks, like the CBD lemonade they launched earlier this year, you'll want to drop by to warm up, too. Check out their Superfood Hot Cocoa that's loaded with reishi and maca and upgrade it with optional CBD.
One trip is never enough for Grass Roots Juicery, though. You'll want to drop by regularly to make sure you can get limited edition collaborations on CBD drinks, like the one in IG photo above. Make sure you come hungry. They have a tempting menu of acai bowls, salads, and toasts. (Don't forget to add a perfectly poached egg!) And you'll also find CBD snacks for sale in the shop. Look for Super Chill CBD Bites, which are made with pecans, coconut oil, cacao, dates, and unsweetened coconut shreds.
How much it costs: Drinks vary, but the CBD add-on to your drink is just $2
Grass Roots Juicery
336A Graham Ave
Brooklyn, NY 11211
(718) 486-2838
grassrootsjuicery.com
Gregorys Coffee
Stop by one of the multiple locations of Gregorys Coffee in NYC and you can get your caffeine and CBD fix at the same time. Anyone lucky enough to live or work near one of their locations knows they don't mess around with their coffee. This local chain brews up strong shots and has a way with espresso drinks, from lattes to macchiatos. And now, instead of that extra shot, you can add a dose of CBD to your drink.

But it's not just an add-on at this cafe. Sure, you can choose to add CBD to everything from your iced matcha latte to your hot red eye. But they also have a handcrafted CBD latte specifically for their menu. The latte, which sounds weird even to Yelpers who have tried it, includes oat milk and strawberry syrup. Though the thought of strawberry syrup and espresso might sound odd, the latte's racking up great reviews on the platform.

How much it costs: Depends on size; CBD add-on for $2

Gregorys Coffee
Multiple locations
gregoryscoffee.com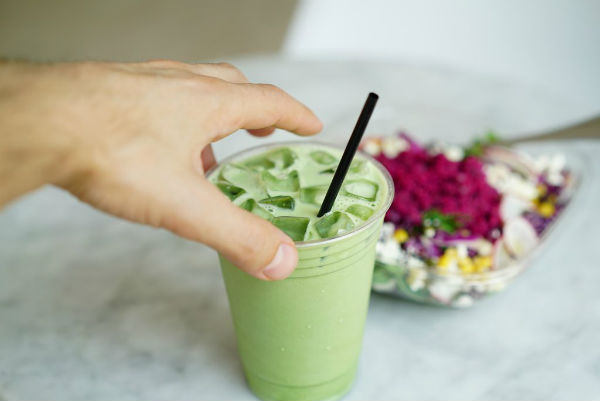 CHALAIT
Head over to the Upper West Side location of this cafe, known for its matcha, and you can dress up your drink of choice with CBD. But though CHALAIT is known mostly for its matcha, you can also find coffee and other hot and cold bevvys in its minimalist shop. Customers rave on Yelp, for example, about their maple latte that's just sweet enough.

And if you're headed over for the matcha, be sure to check out the full menu. They bake the green tea powder into pastries that keep customers coming back. The matcha loaf cake in particular has a number of fans on social media. You won't find any custom cannabidiol creations here, but that just means you can craft your own as you order.

How much it costs: CBD add-on to any drink for $2.50

CHALAIT
461 Amsterdam Ave
(646) 590-3133
chalait.com