I'll never book a session again that isn't a cannabis massage. You can read more about my experience, what to expect, and the health benefits of this treatment in my guide to CBD massage. Suffice it to say, I'm sold. But even if you're ready to book a session, do you know all of your options? While I'm committed to my favorite Lower East Side cafe and spa, there are a couple of places where you can get a CBD massage in NYC.
A monthly, scheduled massage is an amazing act of self-care. Even if you don't have knots and kinks that need to get worked out, making time for yourself in a way that helps you unwind and increases blood flow is all-around a good choice. Adding stress-busting, inflammation-quelling CBD oil to the mix is just icing on the cake for most people. For those of you who suffer from anxiety, it could come a key element to your management routine.
Where to get a CBD massage in NYC
Although I'm going to start with my favorite spa, this list isn't ranked. I've pulled from real customer experience at each location to help you pick the best CBD massage in NYC for you. Maybe that will be at the same place as me, maybe not. Either way, your mind and body will thank you for booking the relaxing spa service.
Chillhouse, Lower East Side
While I love Chillhouse so much I signed up for their monthly membership, first time visitors might need some convincing before enrolling. But the Lower East Side oasis will win you over with their cafe in front, spa in back concept. Come early for your massage so you have time to enjoy a perfectly brewed matcha latte, hot or on ice, in the airy cafe. Their CBD massage balm, an add-on for any spa treatment, also boasts pain-soothing Lidocaine, inflammation-calming arnica, and menthol.
COST: $15 add-on when you book any spa treatment, which range from $45-120
Chillhouse
149 Essex St.
New York, NY 10002
(646) 678-3501
chillhouse.com


Ohm Spa & Lounge, Flatiron
East meets West at Ohm spa, where you'll find a range of offerings from classic spa treatments, like Swedish massage, to cranio-sacral therapy, in which the therapist gently manipulates the body in order to restore the nervous system. Infused fruit water greets you in the calm lounge area as you let go of city stress before your session. If you're coming here to try a CBD massage in NYC, you'll find it in 60- and 90-minute offerings. They apply the infused oil throughout the session for an extended feeling of calm and relaxation. Even better, past customers leave glowing reviews about how each session is tailored specifically to you.
COST: CBD massage for $189 (60 minutes) or $239 (90 minutes)
Ohm Spa & Lounge
260 5th Ave, 5th Floor
New York, NY 10001
(212) 845-9812
ohmspa.com
Modrn Sanctuary, Flatiron
This spa and wellness treatment center has so many offerings it can feel overwhelming. Just head over to their wellness treatments page, they also have health and beauty services, to find their massage options. They now offer CBD massage that works Vertias Farms hemp oil into their services. "This massage helps people to relax faster and at a deeper level, making it possible for a greater release of stress, muscle aches and pains and much more without any psychotropic effects," the spa writes about their massage with CBD oil. Reviews call the spa itself a hidden gem and praise the massage therapists' ability to find exactly where you're holding tension.
COST: CBD massage for $200 (60 minutes) or $245 (90 minutes)
Modrn Sanctuary
12 West 27th Street, 9th Floor
New York, NY 10001
(212) 675-9355
modrnsanctuary.com



Oasis NYC
This spa, with one location in Manhattan and another in Westchester, has the most unique sounding CBD massage out there. Even better, it's perfect for fall. Called their Warm Cinnamon Massage, this treatment combines aromatherapy with the soothing power of CBD. "Warm moist heat packs will envelope your whole back as the aroma of cedar, cinnamon and eucalyptus carry your cares away," the spa writes of this seasonal service. Then they'll use Magsoothium's therapeutic CBD products and a cool marble stone finish to make sure you're totally zen before your 60 minutes are up. (There's no 90-minute option for this one.)
COST: Massage with CBD oil and aromatherapy for $135 (60 minutes)
Oasis NYC
One Park Avenue
New York, NY 10016
(212) 254-7722
oasisdayspanyc.com


Elan Salon & Spa, Park Slope
Head over the bridge to this Brooklyn escape and you'll have a wide variety of treatments to choose from. Yes, they offer that coveted CBD massage gaining in popularity, but you'll also find long-time favorites like hot stone and deep tissue massage. We suggest booking two sessions. One to try a massage with CBD oil and the other to give their Chakra Balancing Massage, which combined deep tissue massage and Chakra reflexology work, a try. For this CBD massage in NYC you'll get to choose from either a 60- or 90-minute session.
COST: Massage with CBD oil for $130 (60 minutes) or $170 (90 minutes)
Elan Salon & Spa
147 Seventh Ave
Brooklyn, NY 11215
(718) 789-1700
elansalonandspa.com
d'mai Urban Spa, Park Slope
Let your muscle cramps melt away with this CBD massage aimed at pain relief. They use hemp oil to soothe inflammation, muscle cramps, and achy joints during your spa session. Past customers of d'mai Urban Spa rave about their massage therapists, and not the same ones over and over. The staff goes above and beyond to make their clients feel comfortable and at home, even setting out light snacks and spa water to enjoy while you wait. So let your stress melt away before the CBD oil helps your muscle knots melt away.
COST: Massage with CBD oil for $165 (60 minutes) or $215 (90 minutes)
d'mai
157 Fifth Avenue
Park Slope, NY 11217
(718) 398-2100
Dmaiurbanspa.com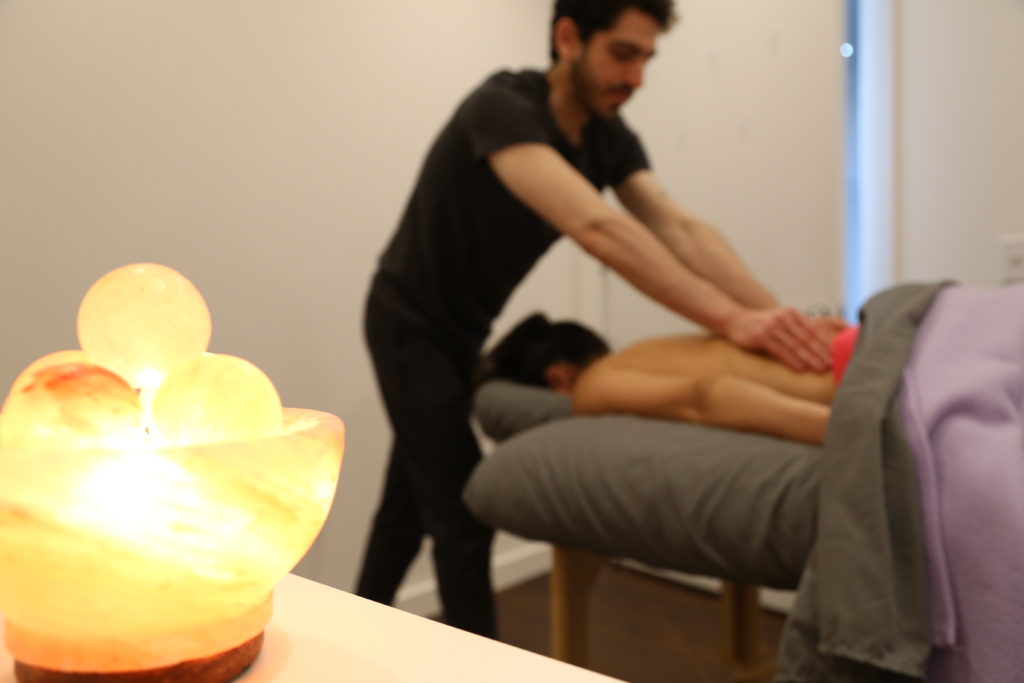 CBD massage in NYC…almost
For those of you who work in The Big Apple, but live in Jersey, there's a CBD massage option for you, too. Even if you live in the city and are hunting for a CBD massage in NYC, it might be worth the train ride for a special service. After all, nothing loosens the knots in your shoulders like taking a small break from the hustle.
om.life Wellness Spa
We know you're looking for a CBD massage in NYC, but it's worth getting away from the crowded streets for this spa. The Jersey City-based getaway offers some harder-to-find treatments like float therapy, cryotherapy (extreme cold therapy), infrared sauna, shamanic energy healing and, of course, CBD massage. They offer a number of packages to cut your costs, monthly memberships for different services, and even intro packages if you're not sure what you're into yet. After your service, enjoy herbal tea as you gaze out onto the marina.
COST: CBD massage for $139 (60 minutes) or $189 (90 minutes)
om.life Wellness Spa
18 Park View Ave, Ste 2A
Jersey City, NJ 07302
(212) 206-0009
om.life
MAP: Where to get a CBD massage in NYC