If you haven't discovered Lulu's Chocolate yet, now's the perfect time. This brand not only creates some of the best-tasting healthy chocolate out there, but also got into the CBD chocolate game. Now the stars have aligned for chocoholics who want their treat to help them chill the eff out with a healthy dose of CBD. That's right, Lulu's is running a sale on their CBD edibles.
I've loved Lulu's Chocolate for some time, though it's hard to find. I didn't, however, have any idea that this beloved brand had jumped into the CBD market. You might already know that there's a couple chocolates among the CBD products I swear by, but Lulu's is going to quickly make its way onto that list.
There's no word on how long this deal will last, but Lulu's Chocolate makes it easy to stock up. They've always sold their chocolates by the bar or case. Since they're difficult to find in health stores, it makes sense to go all in on a case if you find a flavor you love. I'm a big fan of their Smoked Sea Salt Almond chocolate, which use sprouted almonds. Raw nuts contain enzyme inhibitors, so it's believed that letting them germinate (or sprout) releases more of their nutrient potential. They're also easier to digest.
Why get CBD chocolates from Lulu's Chocolate?
Lulu's Chocolate, like with their other products, goes above and beyond with their CBD edibles. They not only created two sizes to help it fit your lifestyle but also optimized the ingredients. They kept the formula low-sugar like their other bars but also added terpenes along with the CBD.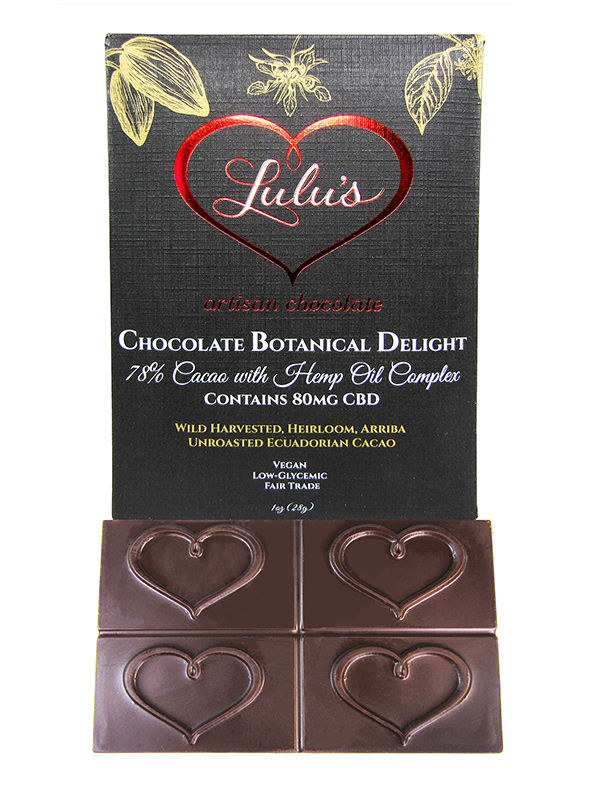 Cannabidiol natural contains terpenes, health-boosting particles, but they kicked it up a notch. They laced their bites and bars with even more of these beauties "to activate & accentuate the healing powers of CBD Oil." As if that weren't enough, they put thought into the terpenes their chose since CBD boasts a wide array of the particles. Lulu's Chocolates "chose a terpene profile that supports pain relief, stress reduction, relaxation & a joyful mood."
How's the nutrition on these treats from Lulu's Chocolate?
Lulu's Chocolates uses essentially all organic ingredients in their products. (The only thing not organic in the Smoked Sea Salt Almond bar is the salt.) And, yes, that means organic hemp oil is used in their CBD chocolates. (If you're not sure why that's important, we explain it in our guide to red flags you need to watch for when buying CBD products.)
But even though they use organic coconut sugar, they try to keep the amount they use low. One of their mini CBD chocolates has only 1.3 grams of sugar. Trust me, vanilla and well-sourced cacao makes their chocolate smooth and flavorful enough without all the added sugar. One serving of their chocolate will run about 43 to 85 calories, making it easy to fit in even if you're trying to lose weight and keep it off.
So tell me more about the sale on CBD chocolate
Right now, you can snag the CBD chocolate in bar or mini form at a discount. The minis, which normally cost you $4.49 each or $99 for a case of 24 are now $3.99 (single) and $92 (case of 24). (Psst: If you do the math, you'll actually save more  if you buy 24 of the single chocolates instead of the case. We're talking a 12% discount instead of 8%.)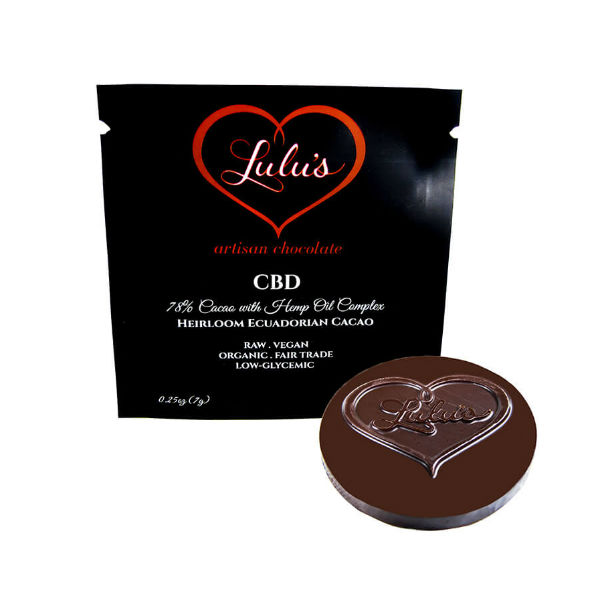 They're also offering savings on the bars. Snag the 1-ounce chocolate bars for $12 for a single or a case of 12 for $132. That's down from $14 per bar and $154 per case. That means you'll save roughly 15% off single bars as well as cases. In this case, though, you'll save money more if you buy the case of 12 bars instead of 12 singles. You end up getting each bar for $11.
Want to check out their lab results before you buy? Lulu's Chocolates makes all of their lab reports for their CBD products public, and you can access the reports for their chocolates here. If CBD chocolate is part of your routine, don't sleep on this deal that won't last long.