A massage with CBD oil is basically 50 minutes (90 if you're lucky or rich) of heaven. But even though there are more places than ever to get a CBD massage in NYC, it's far from the only treatment New Yorkers are loving now. You've probably also seen various "face gyms" pop up around the city, following on the heels of the facial yoga trend. Well, think of this CBD facial in NYC as the luscious child of these two spa treatments.
You heard me right: a facial with CBD oil. While a regular facial may be in your self-care routine, the CBD facial is a splurge. That's because it's being offered by celebrity esthetician Ildi Pekar. Pekar doesn't believe in using harsh chemicals in her treatments. She has a reputation for combining traditional remedies with new technology to help her clients get glowing skin. And it must work since she boasts clients like models Miranda Kerr and Lindsay Ellingson.
Maybe that's why it makes so much sense for Pekar to be one of the first to offer a facial with CBD oil. Cannabidiol is known for its inflammation-easing abilities, so it's a no-brainer for those puffy under-eye circles. But I'm portraying it all wrong if I let you think this is a standard facial with CBD oil worked into the process. Of course with a high-end esthetician like Pekar, this treatment is anything but basic.
What to expect from the Ildi Pekar CBD facial in NYC
First and foremost for most of us normal humans, you should expect to save up if you're looking to get a facial with CBD oil at Pekar's NYC studio. The treatment, called the CBD Vibe Facial, will set you back a cool $400, and that's before you tip or decide you need to leave with some of Pekar's signature products.
But it does sound like you're getting a lot of treatment for your buck. The CBD facial starts with electric stimulation to tighten and tone your face. Next, CBD oil that Pekar formulated herself is applied to deeply hydrate your skin. (Hopefully depuffing any inflamed areas at the same time.) The treatment then wraps up with oxygen therapy to help balance the pH level of your skin and encourage collagen production.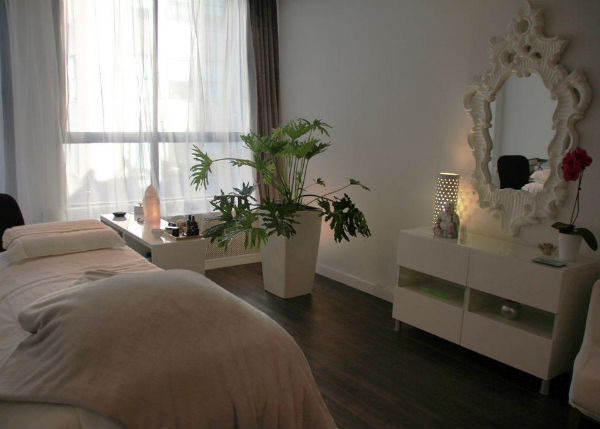 "I understand and respect people's opinions and philosophies about the cannabis plant," Pekar said in a blog entry about the release of her own CBD line of beauty products. "I have seen a difference in the skin since using it topically and I just want to make this available for my clients who can benefit from this." But she believes in it so much, she took the time to create her own CBD oil.
Why you might want to try a CBD facial
Sure, clients rave about Ildi Pekar and her beliefs. Even those with sensitive skin claim they never leave with their skin feeling raw and tender. But what's so special about the CBD treatment, especially at this price? A couple things, actually.
If you're prone to inflammation under your eyes or through your cheeks, this might be the best treatment for you. CBD does have anti-inflammatory properties, which can help soothe the puffy areas. But there's a good reason to apply it topically instead of booking a regular facial and taking a CBD supplement.
CBD taken orally takes longer to kick in. That's because it has to work through your digestive system. CBD applied topically, however, bypasses this time-intensive step. Want to know more about it? We asked a CBD expert at a local spa why CBD applied topically seems to work so much better than supplements, and boy did he fill us in.
How to book your facial with CBD oil from Ildi Pekar
Looking to get in on this treatment? You'll need to make an appointment at the Ildi Pekar Wellness Studio. The booking feature through her website wasn't working when I tested it, so try calling if you can.
Ildi Pekar Wellness Studio
20 E. 49th Street
New York, NY 10017
(212) 682-6080
[email protected]
ildipekar.com