There are more CBD edibles than ever on the market, but most of them are sweet. That's clearly not a bad thing. The calming effect of CBD gives you the perfect excuse to enjoy a treat. I personally swear by some CBD products that take sweet treats up a notch, including a "cookie dough" and cannabidiol chocolates. One company, though, wants to take CBD another direction.
Wait, what is biltong?
If you've never heard of biltong, let me introduce you to the snack that will make you rethink jerky. Biltong is essentially South African jerky, but the treating process is different. While beef jerky is dried in a dehydrator, biltong is allowed to dry naturally in a cool place. As it's given more time to dry out, biltong is significantly less tough than jerky. The process takes anywhere from 12 to 18 days, which also allows the spices to soak into the meat more. Meaning you get a snack that's not only easier to eat but also more flavorful.
Lehigh Biltong is tackling CBD edibles
I found Lehigh Biltong while hunting around for snacks for my boyfriend. He loves biltong and converted me to this protein-rich snack. While I've never seen Lehigh Biltong products on store shelves, they're well worth tracking down online. We ordered their classic flavors and flew threw the generously-sized bags. It makes getting protein easier when you're on the go, which is why it's one of the healthy snacks for traveling we never go without.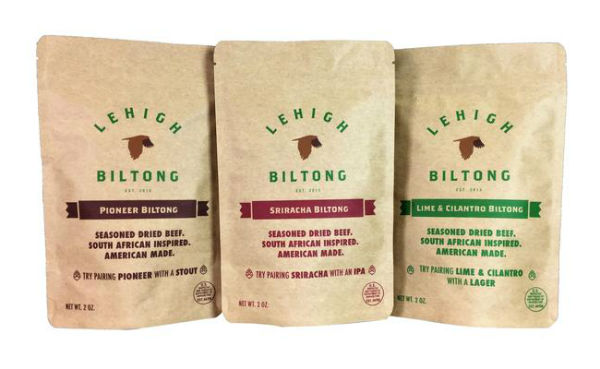 As if their delicious biltong wasn't exciting enough, they sent out an email on November 5 announcing their CBD-infused product. "For the past few months we have been working to create a totally new concept, CBD infused Biltong," the email read. Although the product isn't yet ready to launch, Lehigh Biltong prompted subscribers to fill out a survey about the exciting new snack and gave them the opportunity to pre-order a package.
The company also has a page on their website for the new addition to their line, but there currently isn't any content there. Dirt will keep you updated on this ingenious CBD edible as news comes out. We placed a pre-order, too, so we'll be able to weigh in on the flavor and effects.