There was something magical about cereal for me when I was growing up. That's probably because the only cereals stocked in my home were decidedly sugarless—which meant, for me, that they were also decidedly joyless. But I'm finally rediscovering that special spark thanks to Magic Spoon cereal.
My mother's campaign against sugary cereals was actually highly effective. I didn't dive headfirst into a big bowl of cereal the first day of college. The thought didn't even cross my mind. I had essentially forgotten that cereal was even a thing. When I finally did rediscover the breakfast staple, the only kinds I ate were Fiber One and Special K and that was about calorie counting and not flavor.
In fact, I wouldn't have considered cereal for any other purpose for the better part of a decade. My food rules finally loosened when I started eating according to macros—I don't believe in intuitive eating, in case you're wondering—and as they fell away, they made room for previously banned foods, like breakfast cereals.
Magic Spoon cereal review
Magic Spoon isn't new to me, but it did take me a long time to try it. After going through an eating disorder and years upon years of strict dieting, I ditched most foods and snacks that felt like "healthy" replacements for something else. I generally prefer to eat a little of something indulgent rather than more of something that flavor- and satisfaction-wise is a semblance of what it's trying to imitate.
I judged Magic Spoon cereal too soon. Its flavors may be inspired by your beloved breakfast cereals of childhood, but it's a cereal that stands on its own not a cereal that stands in for something else. While I did receive my first boxes for free, I've since bought it for myself at full price. It won me over.
But I will say that, unlike some other Magic Spoon fans online, I don't feel full for hours after eating the cereal. It's been years since I've eaten regular sugary cereals, so maybe it keeps me feeling full for longer than those more sugar-laden versions would. But I'm absolutely ready for an early lunch if I have Magic Spoon for breakfast. To counter this, I've been adding a tablespoon of chia seeds.
Magic Spoon cereal flavors
The company currently offers six flavors, all of which will remind you of lazy Saturday mornings watching a cartoon marathon. While everyone's tastes are different, here's what I thought of each flavor: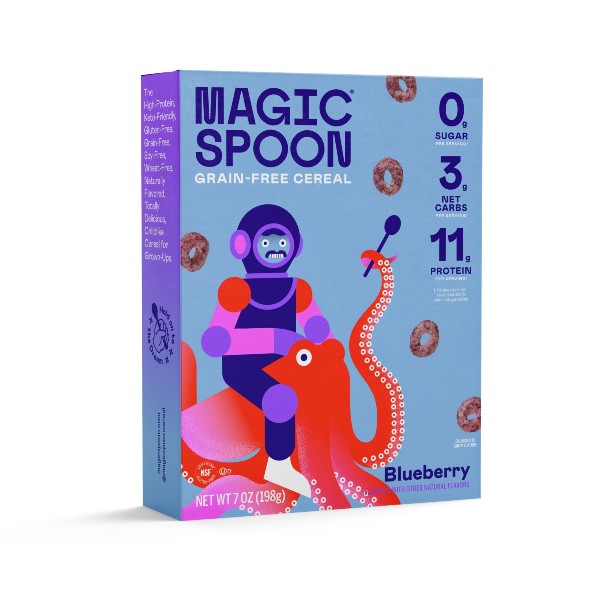 Blueberry
Flavor score: 5/5
I'll admit it, I was dreading this one. While I like berries—like, real berries—I've never been a big fan of berry-flavored things unless they're gummies or hard candy. It needs to be a true fake berry flavor, not mixed with anything resembling vanilla for me to be happy. Except when it comes to this cereal. Magic Spoon's blueberry flavor tastes like a blueberry muffin somehow, and it's one of my favorites that they offer.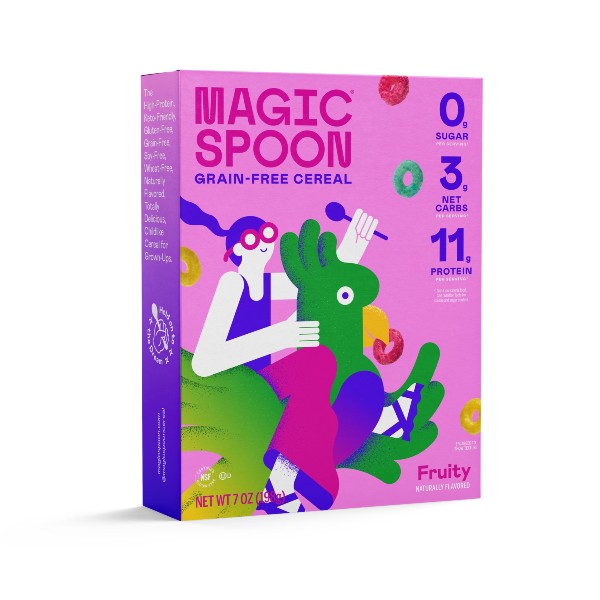 Fruity
Flavor score: 3.5/5
Maybe this is where my bias against fruity flavors kicked in. While it was good, it wasn't great. I tried blueberry before fruity, so maybe that also skewed my score. I imagine I'd turn to one of these two flavors when I was having the same craving and, in that case, blueberry is the clear winner and stronger flavor. Good wasn't good enough when stacked up against blueberry.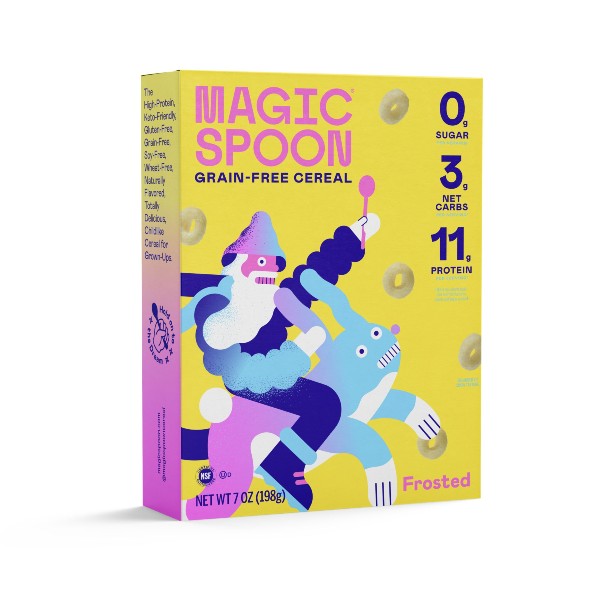 Frosted
Flavor score: 5/5
Frosted is my favorite flavor of Magic Spoon cereal. I'm currently running dangerously low on this flavor, even though I still have two boxes of other flavors I haven't opened yet. (I ordered the variety pack. More on that in a minute.) All you need to know is that this flavor tastes like a bowl of Rice Krispie treats or marshmallow treats. It leaves the milk just sweet enough. You will lick the bowl.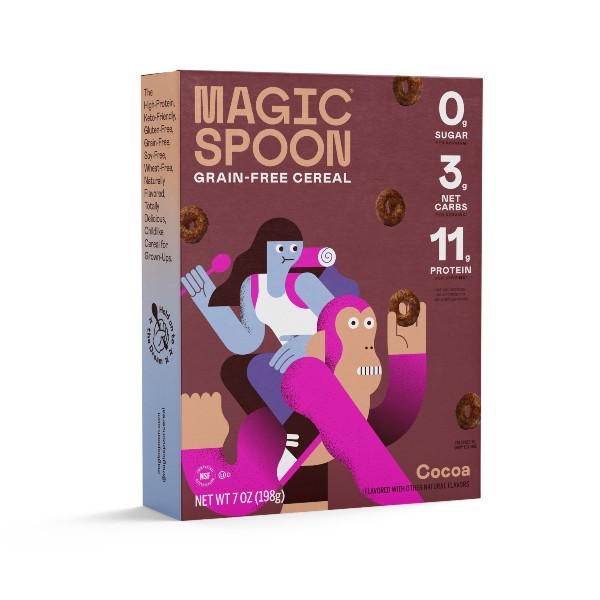 Cocoa
Flavor Score: 4/5
I fully expected this flavor to be my favorite. The one exception to our no-sugary-cereal rule when I was a kid was hotel stays. If we had breakfast at the hotel—and I worked hard to make sure that we did—I was allowed one mini box of any cereal I wanted. And I always wanted Cocoa Puffs. Magic Spoon's cocoa was good, but I wanted a stronger chocolate flavor. My vanilla almond milk almost overpowered the cocoa.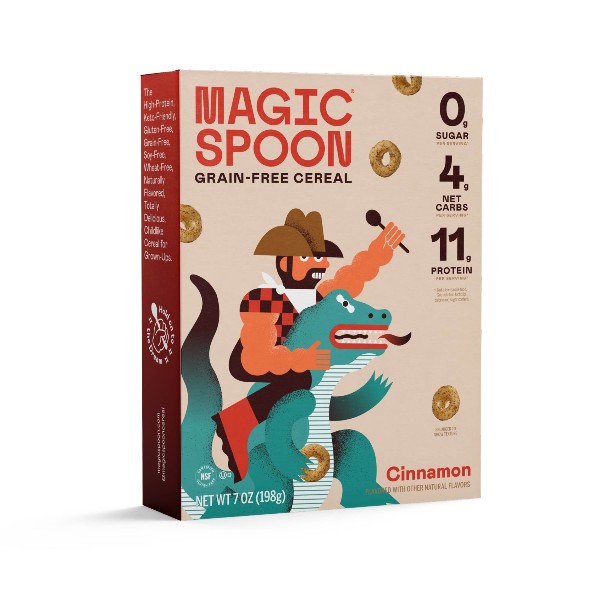 Cinnamon
Flavor Score: (to come)
I haven't gotten a chance to try cinnamon yet. Whenever I order Magic Spoon, I go for the variety pack, which includes one box of all the varieties listed above. But it does not include cinnamon. Cinnamon is only available in a four-pack of the flavor. This post will be updated with more information and a flavor score once I try it.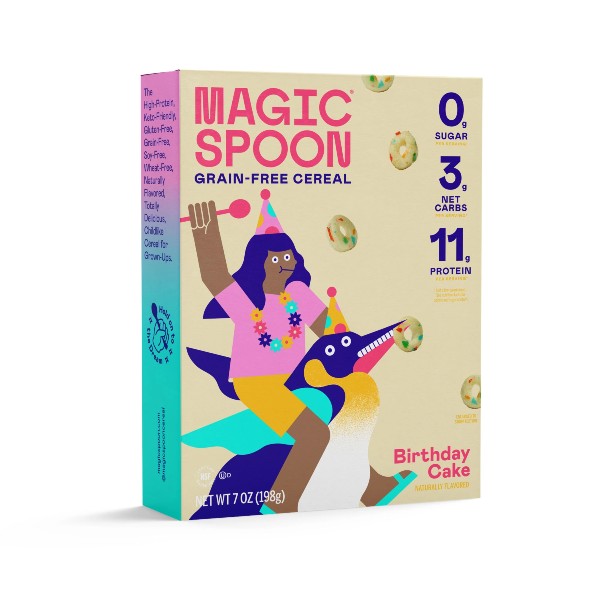 Birthday Cake
Flavor Score: (to come)
For their birthday, Magic Spoon is giving us a present: birthday cake flavored cereal. While I haven't had the pleasure of diving into a bowl of the newest flavor yet, I'll update this story with my thoughts on the flavor as soon as I can.
Magic Spoon cereal ingredients
If a high-protein low-carb cereal sounds too good to be true, you're probably someone who jumped straight to this section about the ingredients. The main ingredient in Magic Spoon is their milk protein blend, consisting of milk protein isolate and whey protein concentrate. When I buy protein powder, I reach for whey protein isolates because other types of whey can be hard on my stomach. But the protein blend in Magic Spoon sits just fine for me (and keeps my vegan boyfriend out of my favorite snack).
The second ingredient in Magic Spoon is their sweetener blend. Magic Spoon uses three non-nutritive sweeteners: allulose, monk fruit, and stevia. Stevia can lend a strange metallic aftertaste but doesn't in this cereal. Allulose is one of the newer sweeteners on the block, but initial research seems promising. One small study showed that allulose was actually able to lower blood sugar and insulin in participants after eating. Another found that, unlike some other zero-calorie sweeteners, allulose didn't cause any gastrointestinal distress until participants reached almost 7 grams of allulose in a single serving.
Where can I buy Magic Spoon cereal
Sorry, but you can't just order Magic Spoon cereal on Amazon. You will see some other high-protein low-carb cereals available on the digital retailer with similar aesthetic and branding, but they're not Magic Spoon. To get this magical morning meal, you'll need to head straight to the Magic Spoon website here. The company offers a subscription option that saves you money on monthly shipments. I'm tempted to pull the trigger on a subscription; the only thing holding me back is a desire to mix up what I'm receiving each month.
Magic Spoon also offers mini boxes, although you'll need to buy a 12-pack that comes with three boxes of four different flavors. The boxes are colorful and look cute in your pantry, but I would encourage you to buy the full boxes. The minis, while cute, don't make sense economically. If you're looking to snack on-the-go, it's worth taking the extra 30 seconds to weigh out a serving in a plastic bag to take with you.