Have you experienced health paralysis? You're trying to eat better, so you did your research. You know about glyphosate and you're starting to realize that some "organic" products only use some organic ingredients, but all that knowledge only brings around the same situation. You, staring at several products on the shelf, reading and rereading the labels. And you're getting no closer to picking the "healthiest" product. Maybe you should stop by The Goods Mart for your essentials, instead.

Rachel Krupa, the founder of The Goods Mart, recruited experts and crafted a list of guiding principles for this healthy convenience store. That means the products you see have already gone through a screening process. Their labels and production methods have been poured over by people whose job it is to understand the factors that can make your head spin. Ashley Koff, RD, CEO The Better Nutrition Program and The Goods Mart advisor is one of those people. She helped pick many of the products you'll find on the shelves, and explained that the goal was to help you buy and eat "better, not perfect."

But even if you're trying to improve your daily diet, you likely fall short when you're in a rush. Krupa — who has worked extensively with food brands through her publicity firm, Krupa Consulting — says her experience, and love of snacks, made her question why we have to compromise on eating better when we're in a rush. So she created her own convenience store where, you can rest assured, you won't be compromising on anything.
The Goods Mart ethos
That's because Krupa has put considerable thought into balancing a wide variety of factors you could consider when trying to eat and live better beyond just stocking healthy food and snacks. "We are not only looking to sell physical goods, but we are looking to do good," she explained to Dirt Mag. "To truly embody that, we needed to establish what 'good' meant to us." And that's why the store's guiding principles was one of the first things they established.

Each point on that list was discussed extensively, Koff tells me. They had to weigh not only convenience but also greater impact, which is why some debates, like whether to stock beverages in single-use plastic containers, took longer. (They decided against it.) It's a struggle to create an "ethos we will never compromise, yet still allows us to be more accessible." But it seems like Krupa and her team have done exactly that at The Goods Mart.

But the key was focusing on helping us all make improvements, not be perfect. Though they considered making the store 100% organic, they ultimately decided against it and went with non-GMO. Stocking all organic products "would've created lack of access for our lower price range," Krupa tells me. And, yes, The Goods Mart is affordable. "We carry products that range in prices that allow anyone to find something better for them," Krupa explains. That includes a $1.25 La Colombe Coffee (which is ethically-sourced, environmentally-friendly, pesticide-free coffee) and 50 cent organic, local apples. The team behind the health convenience store truly wants it to become a source of betterment for the community, which means it needed something affordable for everyone in it.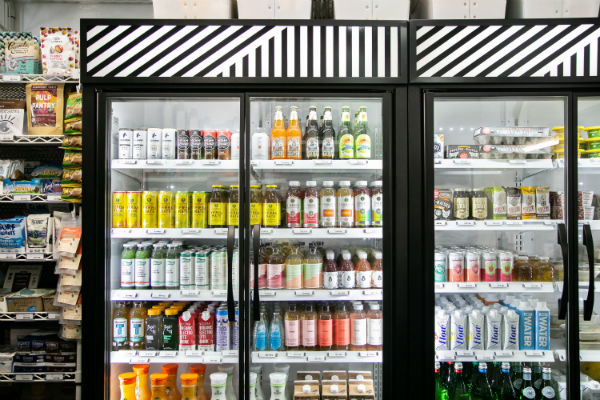 The Goods Mart does good
Customers and the surrounding community are at the heart of what drives The Goods Mart. "How customers feel when they walk out is most important," Krupa tells me. "We want them to feel better." And sure, friendly staff and upbeat music helps, but the root is the care put into product selection, the quality of offerings, and their dedication to accessibility.

"We are not only looking to sell physical goods, but we are looking to do good," Krupa says about The Goods Mart. And she's not just talking the talk. They donate all tips to local charities, bring in local restaurant and culinary partners, and coordinate quarterly community events ranging from community dinners to neighborhood clean up to "Good Pop happy hours" for local elementary schools. They also see their presence in the community as an ongoing discussion, starting from the foundation of their principles. "We feel good about where we started," Koff says, "but in each city it is just a start and we engage with the community to hear what they want as well as evaluate new products, especially from local providers."

The goal at #TheGoodsMart is to help you buy and eat 'better, not perfect.'
Click To Tweet
They also see education as a responsibility they don't take lightly. That might be why you won't find any dogmatic teachings here. They see health as an ongoing journey, one that needs to be taken step by step. Krupa wants her customers to understand more than anything that "one small change or gesture can make a BIG difference," whether that's swapping Red Bull for a Guayaki Yerba Mate or donating 5 cents to a charity — especially when everyone does it together.
Doing better for you, the community, and the world
"The primary goal of any purchase is to make it a better one for your body – and either be delicious or feel good," Koff said, but then explained that they want to go further. "The secondary goal is that it should not harm others, including, ideally, animals and the planet." But the example she used isn't a snack food or a beverage. She tapped another convenience store staple about which you might have forgotten: personal care items.

"Non-organic cotton production is a leading source of pesticide residues that get into water, farm water, and drinking water globally and here at home. So organic is a better not perfect choice we hope you will make for your frequent purchases and the things that touch your body often," she tells me. And while the global impact is certainly a priority, Koff wants shoppers to be more aware that chemicals that affect your body aren't just in foods and drinks.

"We've done a better job talking about food ingredients than personal care items," Koff explains, "and that's shocking because a lot of times the personal care items spend more time on or in our bodies." Chemical-free personal and feminine-care items tend to be something you order online. But not at The Goods Mart. They're stocked, just like every other convenience store. But here, you can feel good about what you're grabbing when you're on the go.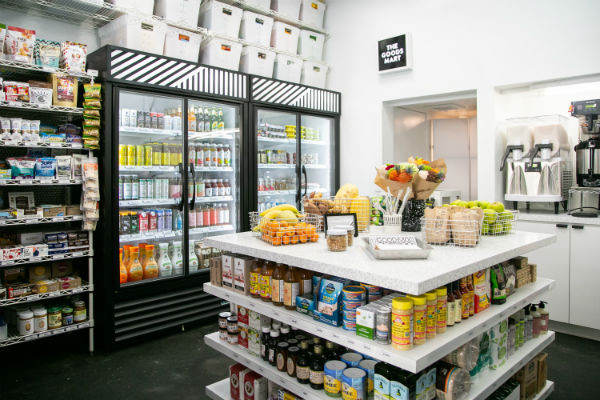 What to expect at The Goods Mart
Beyond friendly people greeting you with a smile and great music, what are you going to find at The Goods Mart? The biggest shocker might be the lack of grab-and-go beverages in single-use plastic containers. But with all this talk about everything The Goods Mart doesn't carry, you might also be surprised by what they do — and how delicious it is. When asked what her favorite products on their shelves were, Krupa was hard-pressed to choose between them. She reiterated how much she loves all of their brands.
We are not only looking to sell physical goods, but we are looking to do good, – Rachel Krupa, founder of #TheGoodsMart
Click To Tweet
You won't find artificial sweeteners here, but that doesn't mean there aren't sweet treats. Remember, everything here comes back to making better — not necessarily perfect — choices. "We know better nutrition better be delicious and that can mean sweet," Koff explains. "So we reviewed how many teaspoons in a product serving but also the source of the sugar, then tried to always include a lower or no added sugar option." It's all about moderation. The World Health Organizations suggests you control your added sugar intake, and Koff sees that as a budget of sorts. "Artificial sweeteners offer the body nothing good and can irritate the body. Added sugar is different. Healthy adults, per the World Health Organization, can consume up to six teaspoons of added sugar daily so some of the items at the Goods might be part of their budget."

You'll also notice that while everything is non-GMO, it's not necessarily organic. But think of that as a good thing. "If we made everything organic it would be the Organic Mart not the Goods mart which offers better for you options," Koff jokes. Sustainable improvements move your health journey forward, and "non-GMO is a better step forward."
What to pick up from The Goods Mart
As I mentioned, I pressed Krupa to give me snacks she loves currently on shelves at The Good Mart. (It was probably like choosing between children.) She dished that right now she's loving Little Secret Wafers — I can confirm that they're delicious and perfectly sweet-salty. But she also tapped Laiki Rice Crackers and Siete Fuego Chips and their new cashew cashew cheese dip. She's also been fueling herself with MatchaBar Hustle and the chocolate salty chunk Clif Bars. But, she tells me, she also loves their organic Kelvin's slushies.

While you're there, also stock up on chemical-free personal care items. "What goes in and on your body most often will have the most significant impact on your health," Koff reminds us. And since living a healthy life is an ongoing process, it can help to think about what changes makes the biggest impact. Then act on those first. What The Goods Mart does so well is make it easier than ever to make your habits, the items you choose week after week, better — and so make your life better, too.
Check out The Goods Mart NYC