When it comes to hurdles we face when trying to lose weight and keep it off, the biggest is sometimes the stories we tell ourselves. For some people that's about how much they think they're moving. For others, it's about lack of time to cook healthy meals at home. Other times, though, we tell ourselves stories about foods and their role in our diet, either because we don't know what's right or because we want to think a certain way. This one in particular is a biggie: Is peanut butter a good source of protein?
I've said it before, and I'll say it again: food is neither "good" nor "bad." Food has calories. Some foods have more calories and fewer nutrients, some foods have fewer calories and more nutrients. Some are even pretty balanced on the calorie-to-nutrient ratio. It's all about finding a balance and, if you're trying to lose weight, creating a caloric deficit.
But ideas we have about foods can get in the way if we're trying to eat balanced meals for more stable energy and satiety. With foods that are only one macronutrient (carbs or protein or fat), it's easy. But what about foods like cheese or peanut butter that have more than one? How should they be counted? For now, we're going to focus on the spread since it has a reputation. But is peanut butter a good source of protein?
Is peanut butter a good source of protein?
So, is peanut butter a good source of protein? Sorry, we know it's not what you want to hear, but not really. It should be counted mostly as a fat source and not as a protein source. Yes, it gets more complicated depending on body composition goals and whether someone is vegan or vegetarian. But for omnivores who are trying to lose weight and keep it off, the answer is a pretty clear no.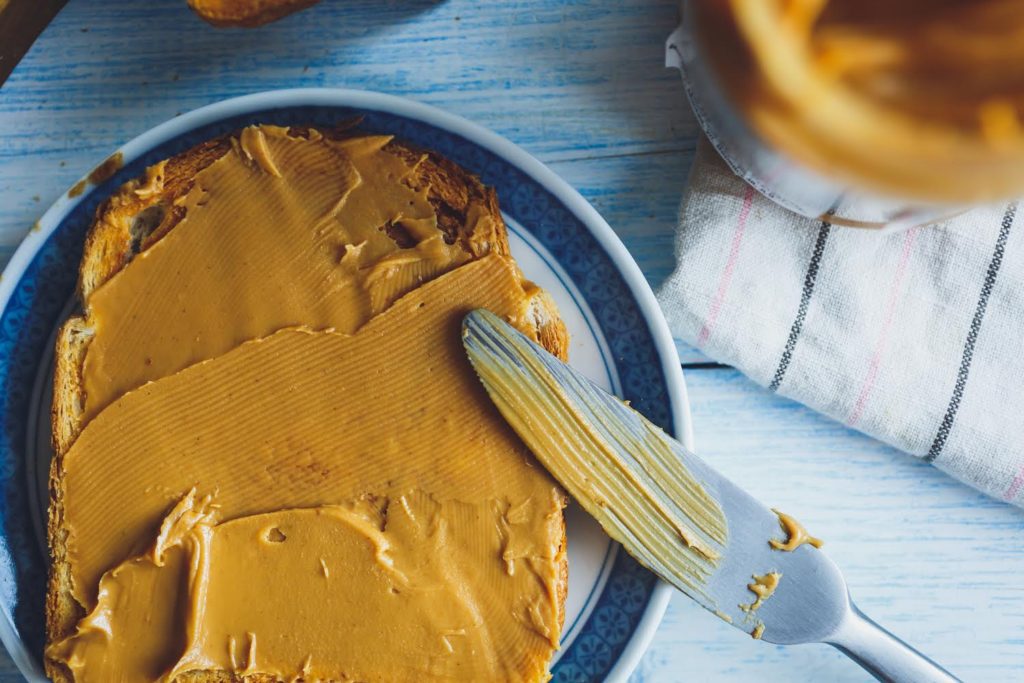 We'll break it down quickly to show you. (If you're asking how much protein do I need in a day, check out our guide and then come back.) For an omnivore, since anything is fair game, obvious sources of protein like chicken and fish are on the table. Chicken breast, for example, gives you slightly over 25 grams of protein for a 4-ounce serving. Two tablespoons of peanut butter, on the other hand, packs only 8 grams of protein but 16 grams of fat.
If you're eating according to the general guidelines for someone working a desk job, this might work in your diet. (Again, refer to our guide on how much protein you need.) But if you're trying to lose weight and keep it off, you're probably skewing your diet higher in protein for a couple reasons we'll go into in depth later, which means those 8 grams won't get you very far toward your daily goal.
Wait, are you saying peanut butter is bad?
Heck no! I eat peanut or almond butter everyday, generally twice a day. But in my diet plan it's used as a (very delicious) fat source, not a protein source. Think about it: Peanut butter has fat and protein in a 2-to-1 ratio, but that's not the whole picture. If you look at calories, it's not 67% fat and 33% protein. Fat has 9 calories per gram, while protein has only 4. That means of those 190 calories in 2 tablespoons of peanut butter, 144 are from fat and only 32 are from protein. Calorically, peanut butter is 75% fat. This is why I use it as a fat source, and think you should too.
Think of those 8 grams of protein you get from peanut butter as a delicious bonus. Yes, they'll help with your satiety and, yes, they count toward your daily protein goal. But if you see yourself falling short on protein for the day, don't turn to peanut butter to fill in the gap. You'll probably end up over your daily allotment of fat if you do. Peanut butter is addictive, delicious, and (like any other food) a perfect addition to any diet. Just please don't think of it as first and foremost a good source of protein.